Tabbles – a User Story beginning from Scratch
I've always wanted to use a document management Software like Tabbles to easily retrieve my documents, photos, and whatever files I have on my home network.
A few years ago, I realized this wish for my photo collection. The name of the software is "Thumbs+". This allowed me to "tag" my photos by categories and find them relatively easily. The handling was not quite trivial in some cases and the German version of the product was out of updates after some years.
It was clear, it must be something new. Not only for photos but corresponding to a "real" document management solution.
I found some products and tested it, but I was not really happy with them. Then I tested Tabbles. The free demo version convinced me, that's the right one. I bought it because the price-performance ratio for the license(s) was very good compared to other providers.
The installation was easy thanks to the video tutorials, but it requires a certain understanding of IT.
How to Start
First, I had to think carefully about how the design of the category-tree should look like. The files should be as easy to find as possible.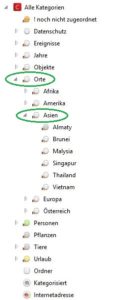 I had already defined search terms like "people", "places", "events", "year" based on the Thumbs+ ones. I added more and more, such as "plants", "animals", "objects", "documents", "manual", "hobby", "invoices", etc. etc.
It is fine that you can nest the categories so as not losing the overview. I have created e.g. "places" with the superordinate categories "Africa", "America", "Asia", "Europe", and "Austria" of Course. 
The same thing I did with the "people" category, including family, friends, business partners as well. Of course, this is a matter of taste.
The structure was now ready (well, that's never finished, it always will be amended).
Now it's time to categorize. First, as a pilot I categorized the user manuals of different products, because I often need them. The documents are spread over many folders in the Windows file System.
Data Migration
Now the photos. Oops, the disillusionment: Over the years, I have categorized more than 24,200 photos with a variety of keywords. These all recording again is really a mess. How should I move the search terms from the Thumbs+ Windows Access Database into the Tabbles MS-SQL Database?

How I solved that, I will describe in the next post.