Press room
Welcome. Have more question? Write us, we're friendly people 🙂
Tabbles is a social data tagging tool, it does:

– Tag files (ultra-fast or automagically) and URLs socially
– Find/group files using virtual folders (tags)
– See files in "Tag A & Tag B" and browse them in virtual file system
– Share your tagging with colleagues, on LAN or in the Cloud
Who will need it?
Any company of professional who need create and save files (yes, that's a large target). Her are some user stories.

Hard facts (updated July 2017):
– Founded in 2009
– 500,000+ downloads
– 2000+ licenses sold, including Fortune500s
– Featured on hundreds of blogs/magazines, including the Washington Post
– The team:  Andrea D'Intino (Sales & Marketing, co-founder), Maurizio Colucci (Developer, co-founder), Irma Sta (Legal-Finance, co-founder), Frans Larsen (Developer)
– Name: from tag + bubble
How does it work?
Tabbles unifies the concepts of file tag and virtual folder: users find files by navigating concepts (not folders).
It builds a layer on top of the file system (it does NOT move/delete/copy files or folders), it saves tagging data in its custom internal database and shares it using shared folders (works fine with cloud storage services).
It's a desktop app: drag'n'drop, copy'n'paste, keyboard shortcuts work as they should.
How is this different from:
Windows explorer: it only allows you to store files into regular (hierarchical) folders.
Google desktop: it reads through files and tries and guess what they're about. Tabbles works with user-given input, therefore the results of search are much more precise.
Windows 7 Libraries: they allow the user to group and show the content of several folders at once. Tabbles creates a virtual files which is unrelated to folders and user can combine "concepts" to see the data they have in common.

Media
Tabbles 1 min intro, from youtube (direct link) and a playlist with 9 more training videos.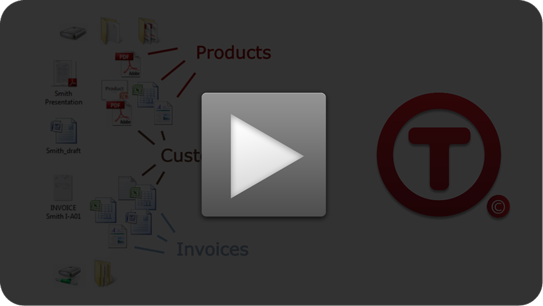 We have 9 other training videos, the whole playlist is here
What about the social networks? Twitter, facebook, blog?
Sure: here is our twitter account, our facebook page, our blog, our youtube channel.
We're also proud members of the Microsoft BizSpark program: